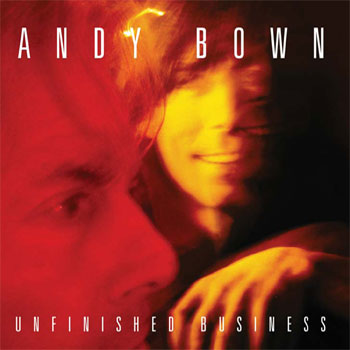 "Unfinished Business", is released on Cherry Red Records. The album features ten new tracks and is his first solo album in over 30 years.

The album was produced by Mike Paxman and recorded by Chris West, it features contributions from Henry Spinetti on drums, Mick Rogers on guitars, Trevor Bolder and Brad Lang on basses and vocalists Juliet Roberts and Sylvia Mason-James. It was recorded at State Of The Ark Studios in Richmond, Surrey in 2010.

Andy has a rich musical heritage, starting from his sixties bands The Preachers and The Herd, where he gave the talented teenager Peter Frampton his first job, on through an endless list of recording sessions with artists such as Jerry Lee Lewis, Johnny Halliday, Dusty Springfield, Cilla Black, Tim Hardin, Pink Floyd, Roger Waters, Lesley Duncan, Paul McCartney, Carly Simon and many, many more, whilst part forming the ultimate 70's pop rock band, Judas Jump (opening The Isle of Wight Festival 1970) and also appearing with the cult folk band Storyteller.

He played keyboards for Peter Frampton in the early 1970s, switching to bass for several tours after Rick Wills departed the band. Andy was the surrogate Roger Waters during Pink Floyd's 'The Wall' tour of 1980 and 81 and he also played on Pink Floyd's "The Final Cut" album and Roger Waters' subsequent release Pros and Cons of Hitchhiking". He has previously released four solo albums, the first of which "Gone To My Head" was released in 1972.

Andy continued an intermittent solo recording career, whilst starting to work with Status Quo in 1973, first as a session musician, and then as a full time member, recording "Rockin' All Over The World" with the band in 1977. He plays keyboards, guitar and harmonica with Status Quo to this day and is an integral part of the band, having co-penned many well known Quo songs, most prominently the group's hits "Whatever You Want", "Again and Again" and the 1988 hit "Burning Bridges" which, re-recorded, went on to reach No.1 in the charts as Manchester United Football Club's anthem.